BERGFREE ADVENTURES NEWSLETTER NUMBER 11
Bannerman's Hut to Centenary Hut & return
South African Hikers
16-19 June 2005

A very seldom hiked route is the contour path route from Giants Castle to Bannerman's Hut , then on to the Centenary Mountain Hut in the upper Injisuti area. This hut was officially opened in 1994 , however due to its remote location it is not used very often . The views from this hut are well worth the trouble to get there . From the tip of the Giant in the south , to Monks Cowl in the north , the views are spectacular.
On the 16th of June , 8 hikers left Giants Castle Campsite for Bannerman's hut. An easy 4 hour walk to the hut. Next morning we left Bannerman's at 8h30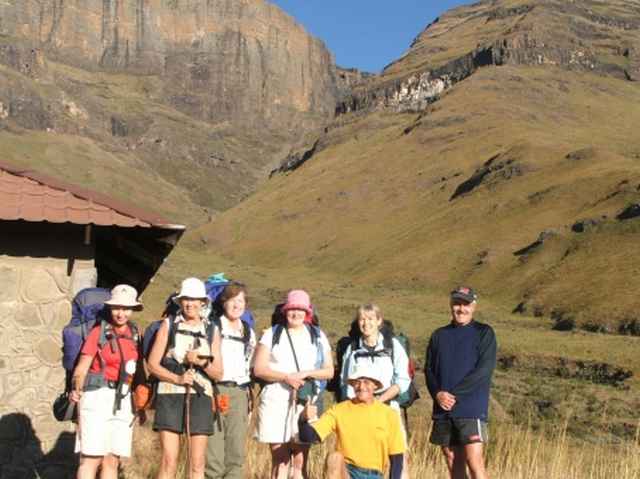 (pic 2005-0619-16)
to take a relaxed hike to Centenary hut some 10.5 kilometers away along the contour path , which despite not being used a lot is still well defined in most places. There is good scenery all along this route . From the high mountain ridges on the left , to long river valleys sloping to the base of the mountains on your right. We passed numerous eland including some younger calves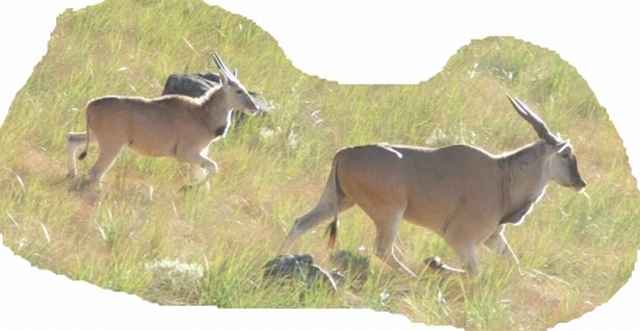 (pic . 2005-0619-18a)


Judges Pass , and Corner Pass are testing ways to get to the top of the escarpment.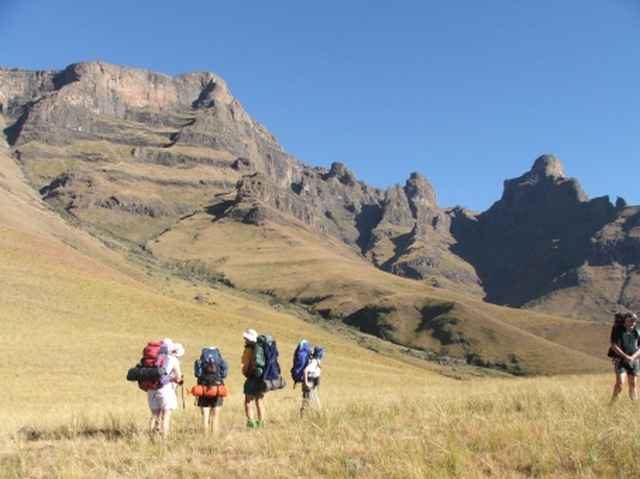 (pic.2005-0619-25 Judges Pass)
Eventually Centenary Hut which was reached by lunch time came into view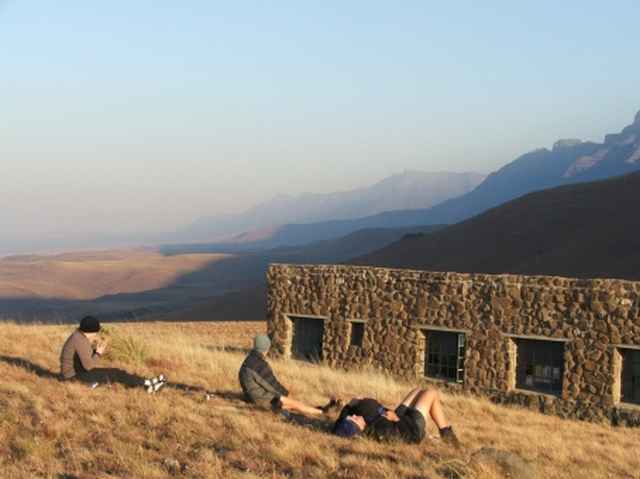 (pic 2005-0619- 44)


After exploring around the area , pre-supper drinks were enjoyed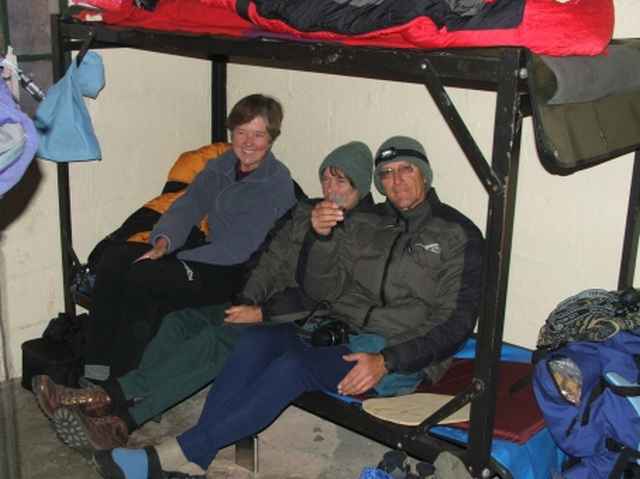 ( pic 2005-0619-54)
and a bit later the business of preparing the evening meal was undertaken The sunrise was a deep orange affair , throwing all sorts of colours on the Injisuti cutback area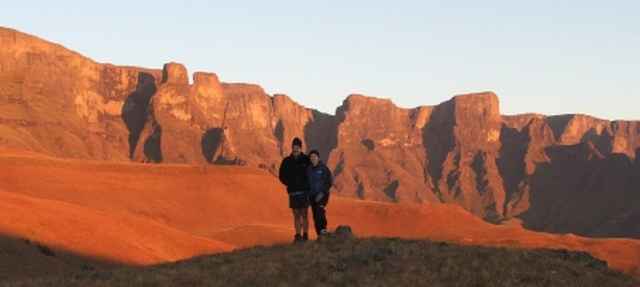 (pic 2005-0619-71c)


After a leasurely breakfast , the group posed next to the hut , with the mountains as a good backdrop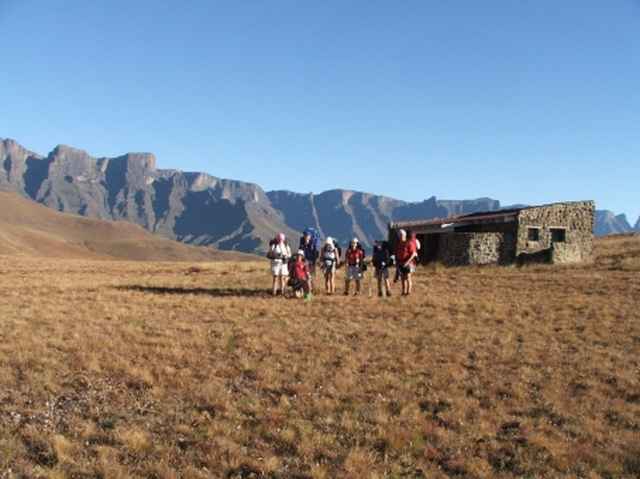 (pic 2005-0619-78)
A different route was taken to get home and on the way an interesting rock art site was visited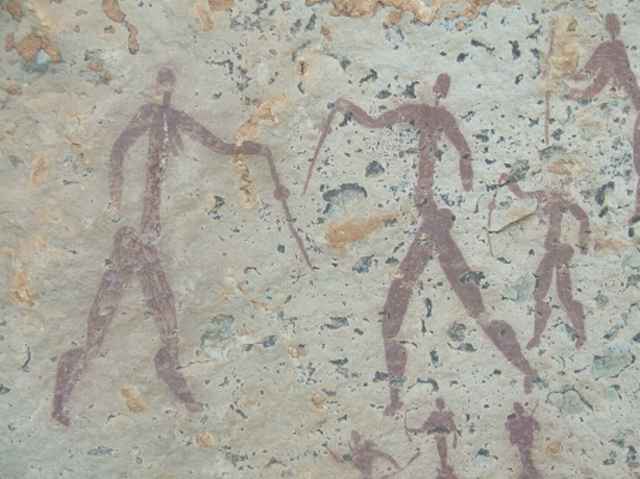 (pic 2005-0619-104)


This pic clearly shows the women carrying digging sticks to gather roots and bulbs etc. This was one of the major functions of the women , to collect vegetable foods for the family.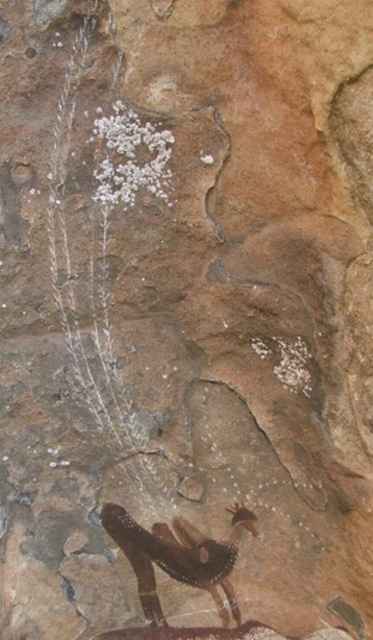 (Pic 2005-0619-109a)
This is a very interesting drawing of a rather elaborate Shaman type figure. The trip was enjoyed by all except myself , as somewhere along the line I had a sort of "food poisoning attack" which really made my life unpleasant for 3 days. On the last day , members of the group helped carry a lot of my kit to lighten my pack as I really was out of strength due to not eating , or keeping food in for 24 hours. This sort of attack is really debilitating to body and soul. These things do happen to the best of cooks!!!!!!***///???


~~~~~~~~~~~~~~~~~~~~~~~~~~~~